Description
Expand FlagStand XL
An extra tall and stable flag stand for outdoor use
Make your message be seen with an impressive extra tall flag. This branded flag solution is extremely stable and yet portable with its telescopic pole function, making it possible to vary the height up to 15 feet. The flag has very few loose parts, which allows for simple transportation and makes the product fast to set up.
HIGHLIGHTS
Flexible height – up to 15′
All parts fit into one bag
Fast and easy setup – no tools needed
Choose between water bags and iron weights as security options
Carefully selected materials to endure long outdoor use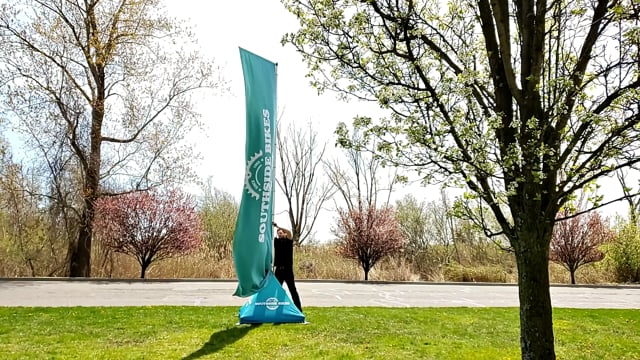 See how you set up the flag stand – it's easy!
Despite its size, you can set up this extra large flag stand by yourself. See our short video on how you do it.
GS Mark
This mark signals to the buyer, customer, or consumer that the chosen product as well as the user manual and production (process) have been tested by an authorised institution such as TÜV Rheinland Product Safety, with priority being given to aspects of safety. In the meantime, the German GS-mark has been recognised as one of the crucial marks within product safety.
Your printed flag
Single or double-sided with excellent print quality.
Single-sided: with reverse image on backside on sheer fabric. Double-sided: with front and back printing on woven opaque fabric.
Four weight bars
With four weighted feet that are easy to secure to the base, you have everything you need for a stable and safe flag stand. The feet are zinc coated and equipped with handles for easy transportation.
Smart water bags as weights
Use the handles when carrying the water bags. The bags are also equipped with a screw cap to easily fill with water.
Make sure it's locked
Use the screw located on the base to secure the stand before pulling up the telescopic pole.
Comes with a telescopic pole
It has as a telescopic pole that you pull out using a few simple operations. It is manufactured in anodized aluminum to resist corrosion from long outdoor use.
Bag for easy transportation
The flag fits into one single bag that is easy to carry with you. The weighted feet are kept separate to divide the carrying weight.
FACTS
Sizes & Weight
Flag stand height:
16.4′
Flag height and width:
126″-180″ x 47 1/4″Weight:
Expand FlagStand XL with cast iron weights: 100 lbs.
Expand FlagStand XL; with water bags (80 l): 33 lbs.Area
Expand FlagStand XL with cast iron weights: 53 9/16″ x 59 9/16″
Expand FlagStand XL with water bags: 47 1/4″ x 47 1/4″Wind-force
Expand FlagStand XL with cast iron weights: 33 mph
Expand FlagStand XL with water bags: 44 mph
Leaflets
Instructions
Artwork templates